Since its founding in 1790, Washington D.C. has grown to become one of America's most architecturally diverse cities. Centuries of history can be seen in its homes and buildings, with many featuring styles that date back to major architectural movements in Europe and Colonial America. Such a rich heritage has made D.C.'s locales some of the best for spotting architecture that's a rarity in most other parts of the country.
In this guide to Washington D.C. architecture, we'll walk you through some of our city's notable neighborhoods and discuss the styles you're likely to see. Whether you're just visiting or are looking for your new home, this rundown will provide all of the insight needed to find the community that most appeals to you.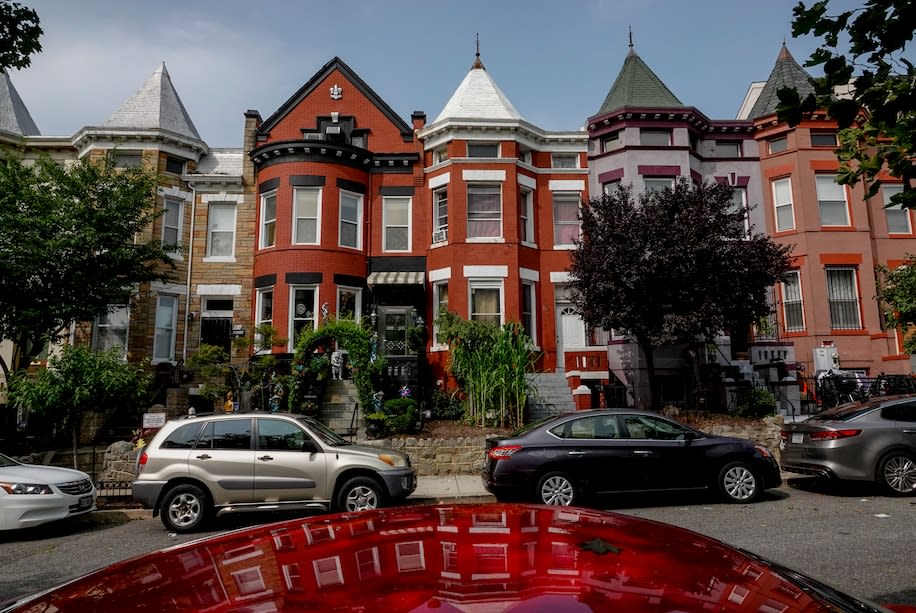 Bloomingdale Victorians - The Washington Post
Victorians and Carriage Houses in Bloomingdale
Bloomingdale is one of the city's most desirable neighborhoods, thanks partly to its stunning historic architecture. You'll see many dense strips of the Victorian Rowhouses that are common throughout wider D.C., as well as Carriage Houses dating back to the mid-1800s. Most of the Carriage homes have been remodeled to transform their old carriage ports into large, open spaces to serve as living areas, or even host local businesses.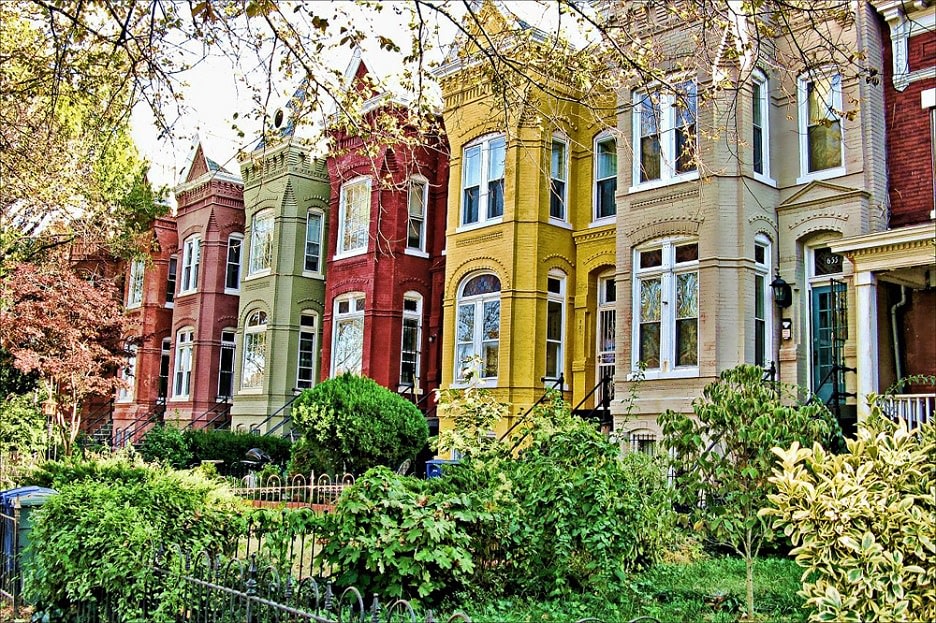 Capitol Hill Victorian Rowhomes - DMV Notary Mobile
Capitol Hill's Row Houses and Modern Builds
Victorian Row Houses are ubiquitous in Capitol Hill, often flaunting bright colors that give the neighborhood a vibrant appearance. This ostentatious style is a sharp contrast to the area's growing number of modern townhomes and apartment buildings, which usually feature stark minimalist design.
Queen Anne Row Houses in Dupont Circle - Cait Kramer Photography
Dupont Circle & Woodley Park's Old World Elegance
The closely-situated neighborhoods of Dupont Circle and Woodley park have an air of sophistication that comes from the old-country styles brought by the area's early inhabitants. Dupont Circle features a number of mansions, townhomes, and rowhouses originating in the 1870s and 1880s, marked by extravagant Richardsonian Romanesque and Queen Anne architecture. In Woodley Park, 19th-century rowhouses echo motifs of these centuries-old styles.
The Federalist Dumbarton House - Wikipedia
Federalists of Georgetown
As one of the city's oldest communities, Georgetown has no shortage of historic architecture. It is most famous for the Federalist style that shapes many of its buildings. This type of architecture emerged from the English-born Georgian movement, building upon it with more fanciful features. The Dumbarton House is perhaps one of the best preserved examples of a Federalist home in Georgetown.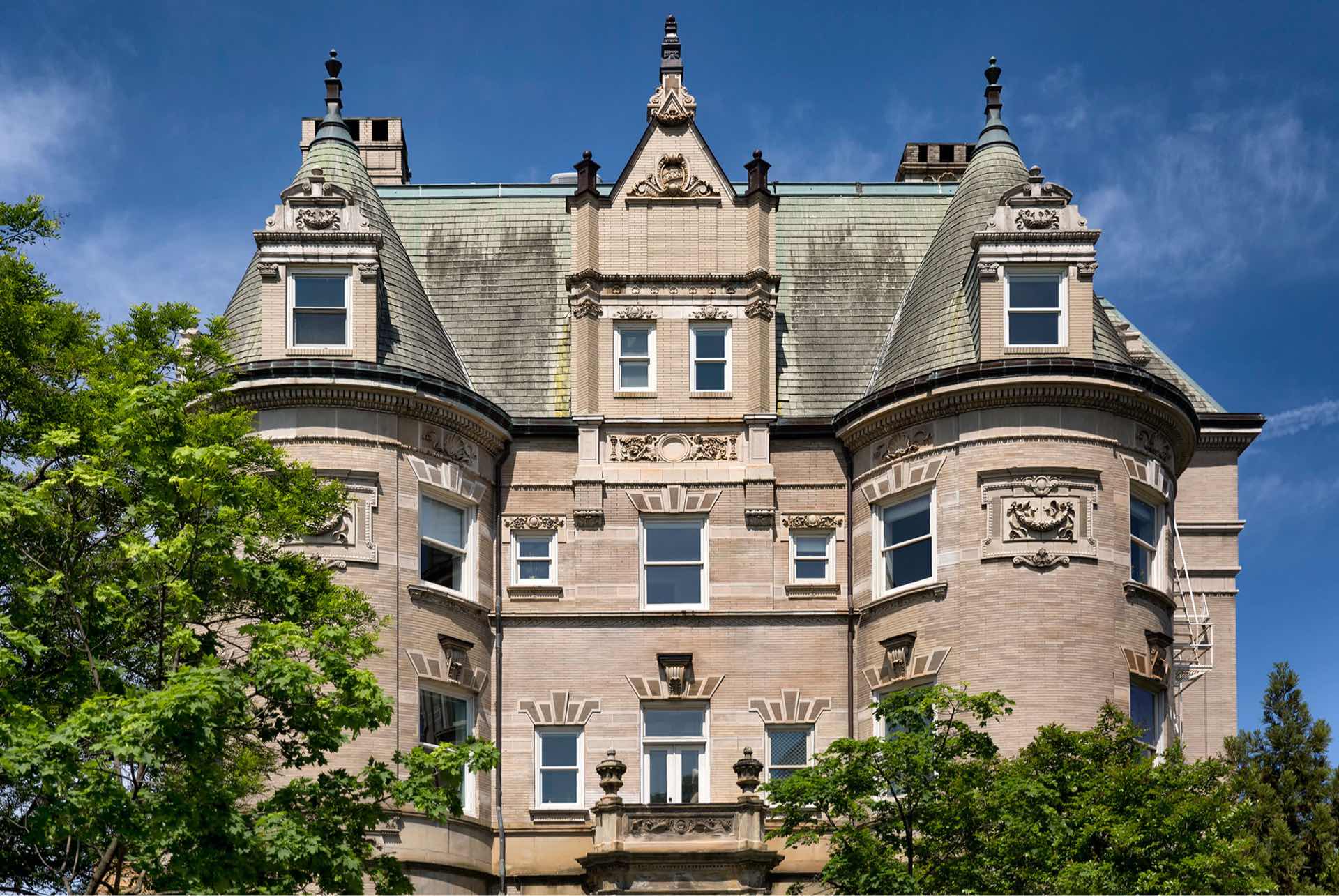 Old World Kalorama Mansion - The Hepburn
European Influence in Kalorama
The historic beauty of Kalorama has made this neighborhood a favorite residence for a number of U.S. Presidents. Like Dupont Circle and Woodley Park, it also draws upon old-world styles to create a European aesthetic through the area. These include the magnificent French Beaux Arts and Georgian Revival styles, where intricate details and ornamentation take center stage.
Romanesque Revival and Victorian Homes in Logan Circle - DC Travel Magazine
Logan Circle's Victorian Gothics and Romanesque Revivals
Logan Circle is a major hub of historic architecture in D.C., claiming two districts on the National Register of Historic Places (Logan Circle and Fourteenth Street). These combine to host 900 officially-designated historic properties. Many of these are stately Victorian Gothic and Romanesque Revival homes, which became dominant in the area during the mid-19th century. Several early car dealerships on the area's historic "Auto-Row" have also been converted into apartments and townhomes, blending modernism and industrial style into the neighborhood's classic English aesthetic.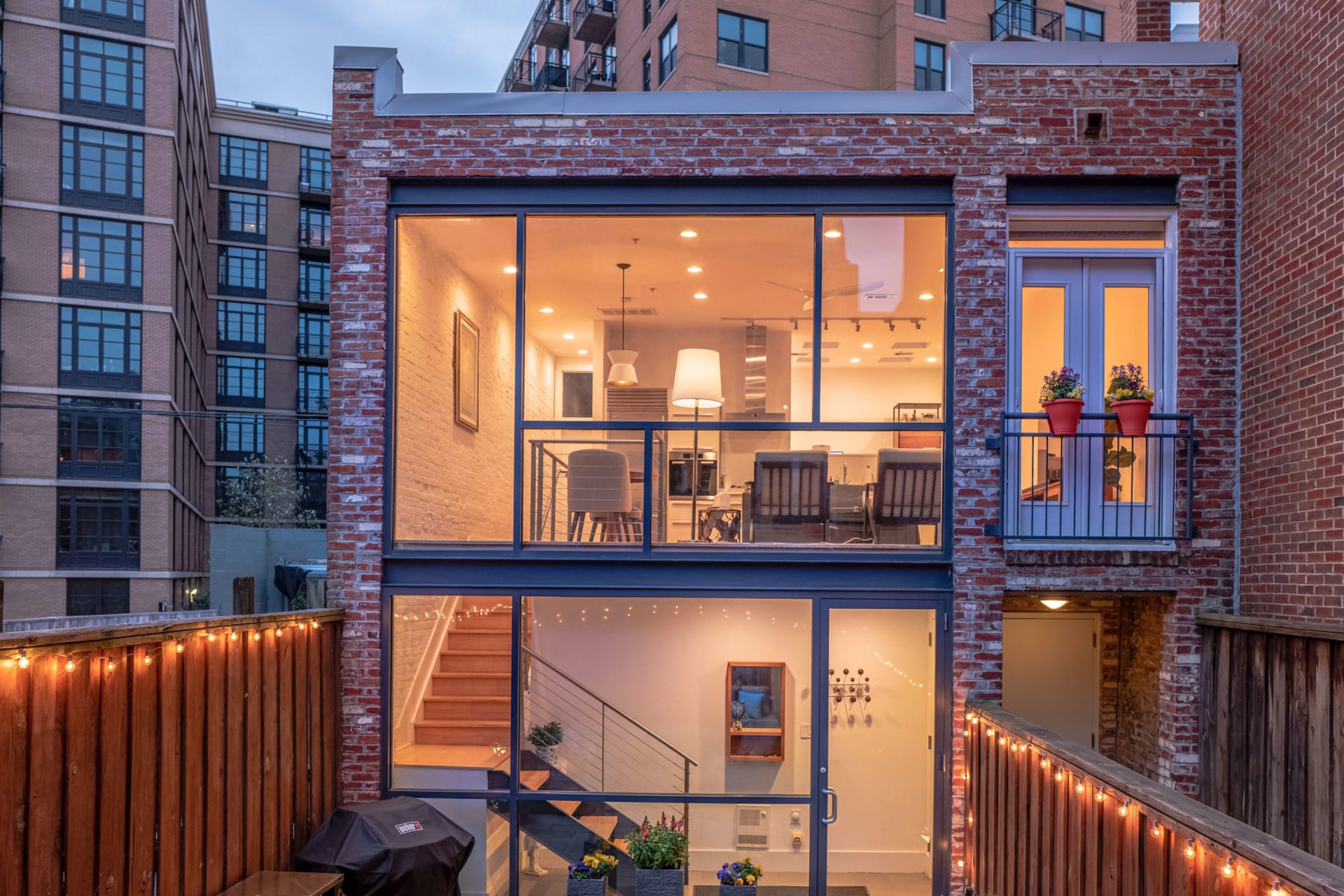 Shaw Carriage House Restoration
Turn-of-the-Century Restorations in Shaw
Shaw has more recent roots than some other D.C. neighborhoods, only seriously developing in the 1900s. However, some homes were built as early as the 1870s. Restored Victorian Rowhouses dominate here, but there are more and more contemporary condominiums and apartment buildings sprouting around Shaw's historic residences.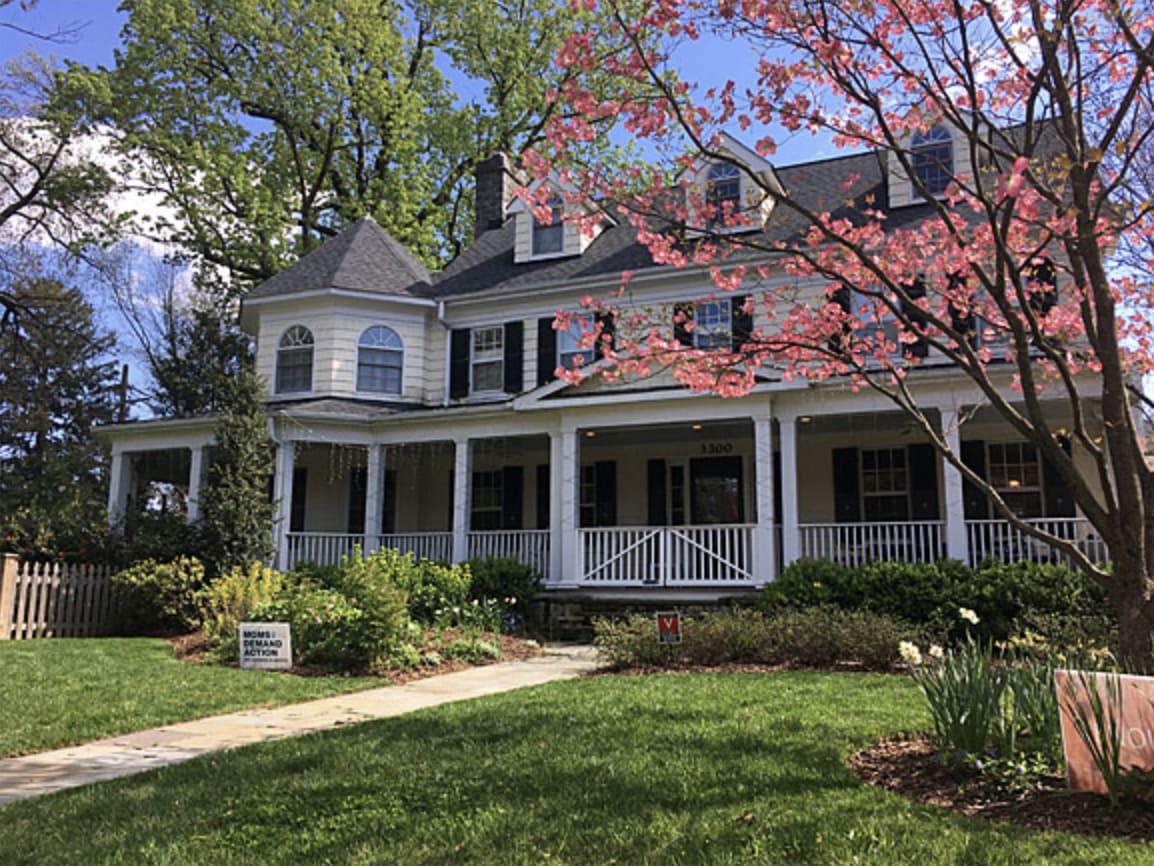 Traditional Chevy Chase Home - Historic Chevy Chase DC
Cozy Classics in Chevy Chase
The peaceful suburb of Chevy Chase hosts a wide mixture of traditional home styles, harkening back to earlier architectural movements. You can find everything from quaint Cape Cod cottages, Colonials, and Bungalows, to more lavish Victorians and Tudors. Although there are grandiose new constructions, many of them adhere to the classic styles that surround, ensuring the area maintains its vintage character.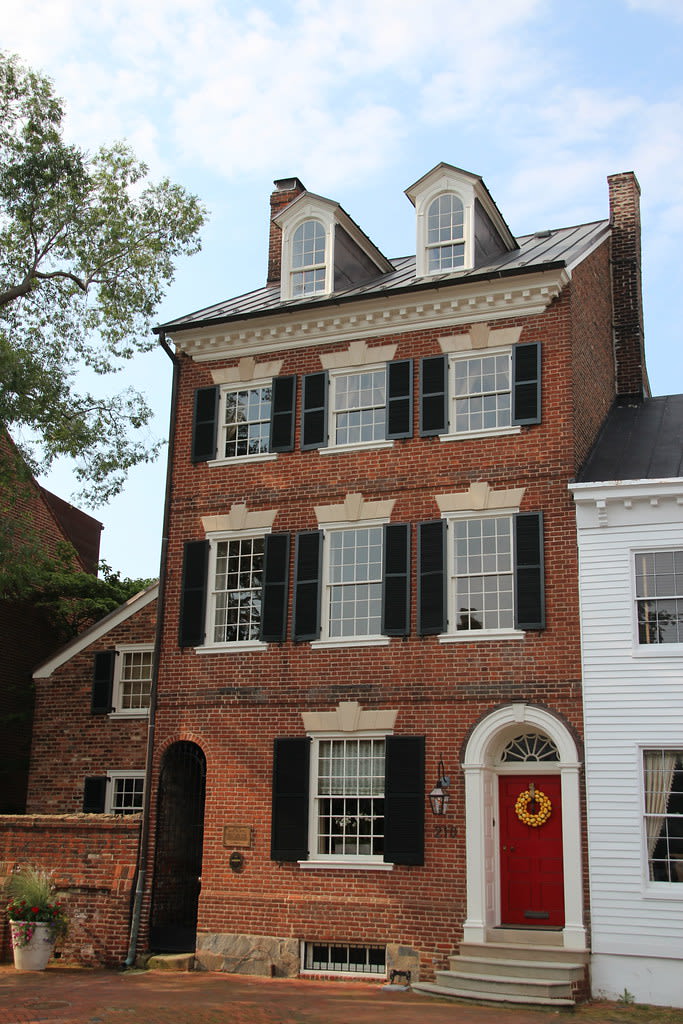 Alexandria's 1796 Dr. James Craik House - Old Town Home
18th-19th Century Relics in Alexandria
To the south of D.C. is Alexandria, a community famed for its cobblestone streets and 18th-19th century homes. The area around the Potomac waterfront is celebrated as an "Old Town" attraction. While Alexandria is filled with historic builds dating back as far as the 1700s, there are also a number of modern townhomes and condominiums appearing across the neighborhood.
Craftsman Homes in Arlington's Lyon Park Neighborhood - Trulia
Arlington's Modern American Homes
Across the Potomac, you'll find the quiet residential streets of Arlington. This area has some of the youngest development in the region, with many of the homes being relatively new construction. These new builds draw influence from a variety of architectural styles, creating an eclectic but current aesthetic. Many mid-century homes boasting recent renovations can also be found through the area.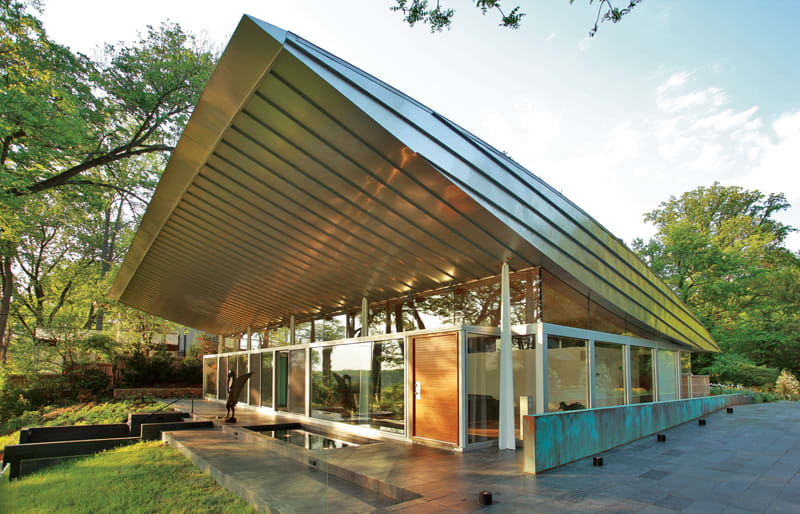 Contemporary Home by Price Architects - Bethesda Magazine
Contemporary Customs of Bethesda
Yet another one of D.C.'s outskirt communities, Bethesda is a bustling center for 21st-century living. It is a destination for modern architecture, with many of its residences being custom designs by some of America's most visionary architects. These luxurious builds take inspiration from many sources - from Postmodernism to Mediterrannean villas.
Discover Washington DC's Most Beautiful Real Estate
At Lockard & Smith, we strive to help you discover the beauty of our city's most desirable homes. To learn more about Washington DC's iconic neighborhoods and their architecture, view our Neighborhood Guide, or contact us today to discuss your goals and schedule your first viewings.